About Our Company
Famous across the globe as a prominent manufacturer and exporter, we, Riders Oil India Private Limited are trusted for our qualitative offerings. Our wide array consists of Heavy Duty Gear Oil, Tornado Gel Grease, Alpha 68 Hydraulic Oil, APLR Long Life Grease, etc. These products are in huge demand all over India and overseas. For being an ISO certified enterprise, we are trusted by customers over other companies. Along with our quality standards, they are pleased by our promising support services. We have been operating a huge supply network managed by experts. Our products are supplied in all major domestic and international markets. Currently, we are serving a huge customer base consisting of all the satisfied clients. Earning appreciation from them is our prime objective for which we put in all the efforts while processing their orders. From accurate packaging to quick shipment, we focus on every factor related to the service.
Quality and Certifications
The items we manufacture and supply are highly preferred because of incomparable quality. They are made from pure material responsible for exceptional features. We are an ISO 14001:2004 and ISO 9001:2008 certified company. For exercising a strict quality control system, these certifications have been accredited to our company owing to which our company is trusted in markets.
Industries We Cater To and Our Clientele
All our products such as
APLR Long Life Grease, Alpha 68 Hydraulic Oil, etc.,
are used in different segments like automobile and construction. Customers are highly pleased with the quality of our range. Given below is the list of some of the popular companies that trust our brand:
Super Auto India Ltd.
Imperial Auto Industries Ltd.
Bhupendera Steels Private Ltd.
Advance Impex Private Ltd.
Mohan Meakin Ltd.
Anand NVH Product Private Ltd.
Dewan Reclaim Rubber

BSL Casting Ltd.
Supreme Alloys Ltd.
Parishudh Machines Private Ltd.
ILPEA Paramount Ltd.
Amar Auto
R.M. Components Private Ltd.
Shivam Oil Traders
Innovations, Environment and Economics
Through constant innovation, we have been able to offer environment friendly products. Use of latest technology has increased our production capacity also. We are a manufacturer and exporter offering the best products such as Tornado Gel Grease, Heavy Duty Gear Oil, etc. at affordable prices.
Our Team
One of our greatest strengths is the support of highly diligent workers. They manage various operations like manufacturing, packaging, warehousing and export. With their assistance, we have been ensuring smooth trade with markets all over the globe. A separate team has been hired that works round the clock to resolve queries of customers. The assistance of diligent manpower has helped us acquire the summit of this vertical.
Why Us?
We offer highest quality items like Heavy Duty Gear Oil, Tornado Gel Grease, etc. at the best prices
We assure customers about the timely shipment of orders and deliver products safely
We always embrace transparency while dealing with them
Infrastructural Facilities
Our infrastructure is equipped with innovative technology and high in machinery. It consists of several departments like:
Research & Development- Our experts are engaged in constant research about the nature of lubricants and the areas where they are used. Thus, we have been able to offer high in class and the most suitable solutions.
Warehousing and Packaging-
All our products are packed with perfection using highest quality material to ensure prevention of quality and safe delivery. After the procedure, products are stored at our warehouse which is supervised by our experienced personnel. Its high storage capacity allows us to fulfill urgent and bulk orders.
Vendor Base
Assistance of reliable companies has made our position stronger in markets. Because of their efficiency, we have been able to keep all the promises made to customers. Our experts analyze the work history, supply ability and quality standards before associating with vendors. Since the time we have initiated the company, our partners have supported us immensely to serve customers with perfection.
Quality Assurance and Objectives
All our items are made from supreme quality material responsible for great features. Customers are assured from our end, that we make available the highest grade range of items like APLR Long Life Grease, Alpha 68 Hydraulic Oil, etc. and quality is never compromised by us. Our quality objectives are:
To decrease the amount in process rejected material 5%
To increase sales turn over by making available improved products
To offer completely pure items and earn the trust of customers
Customer Satisfaction
Client satisfaction is our prime objective for which we always stay attentive towards customers. Our team never delivers unsatisfactory consignments and makes sure to work on each of their specification regarding the order. Considering their budget, we have been marketing our range at highly affordable prices. Customers are provided with the excellent business experience when they contact us. This makes them return to our company again and again.
Quality Policy
Regular Improvement in product performance
Offer items that are match the exact needs of customers
Check all the products such as Tornado Gel Grease, Alpha 68 Hydraulic Oil, etc. before shipment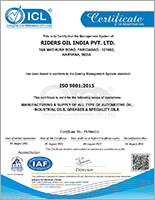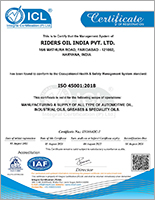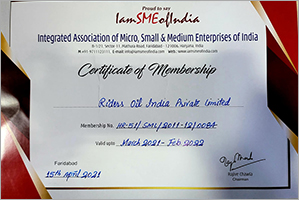 Read More